This is one reason why we bought the camper in the first place. Take our time heading West, be in control of our environment and enjoy visits to our National Parks. We started our trip on Jane's birthday and our first stop was in one of the towns I grew up in, Luverne Minnesota. We spent the night at Blue Mounds State Park. We met my aunt Jessica and Uncle John for a beer at the Take 16 brewery in town. It was great to see the town again and even more so to catch up with my favorite aunt and uncle.
Our route to Luverne was longer than originally planned as we made a detour through Hutchinson MN so Jane could see her dad. Unfortunately he has had a series of strokes and is at the end of his life. Its been sad to see him isolated from the family for the last six months due to COVID restrictions, but today Jane got to hug him and tell him she loved him in person. We don't know how much longer he has and we are prepared to make whatever changes to our itinerary we need to when he passes.
From Luverne we hopped on I90 and headed West to the Badlands of South Dakota. We stopped for lunch at a very scenic rest area overlooking the Missouri river.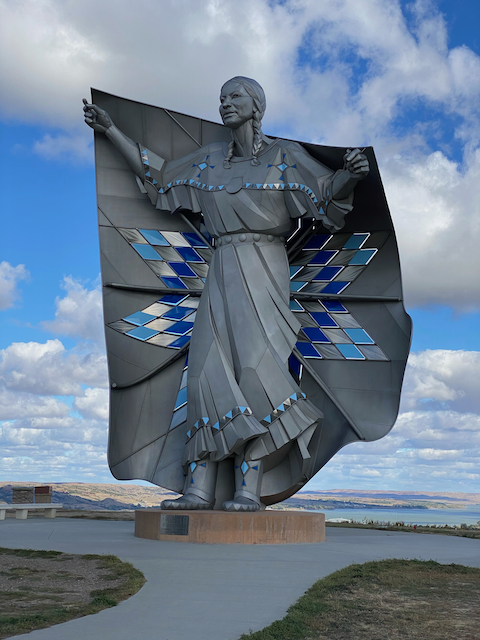 Towing the camper in a strong north wind does nothing for your gas mileage! So we don't make speedy progress and probably average 55 miles an hour. On a freeway with a speed limit of 80 we were passed a lot. This was pretty hard on Jane as she is usually doing the passing! Once we arrived at the Badlands we quickly set up camp and headed out to do some hiking. We did three relatively short hikes - The Notch, the Door, and the Window.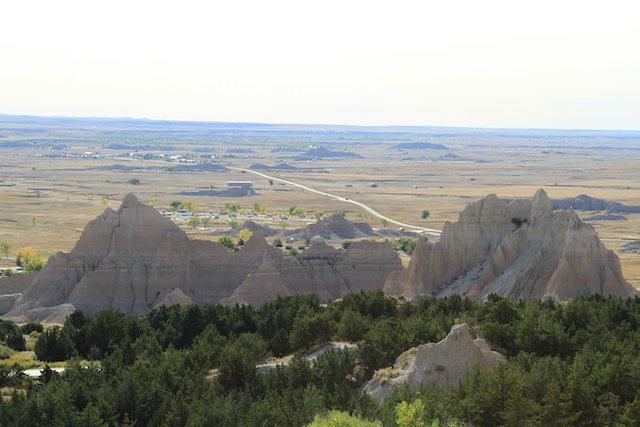 This is at the end of the Notch, and you can see our campground in the distance.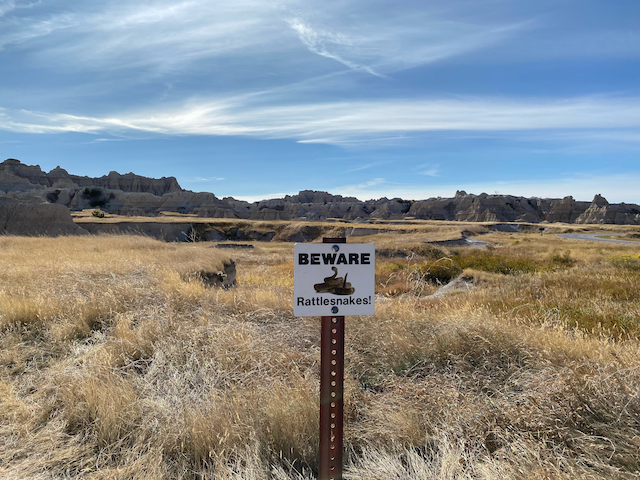 And this is just to make sure you pay attention while you are on the trail!
The Notch hike was by far the best, the other two are just board walks to some scenic views. The most challenging part of the notch was this little ladder section. It was so crowded when we wanted to come down that we had to find an alternate route.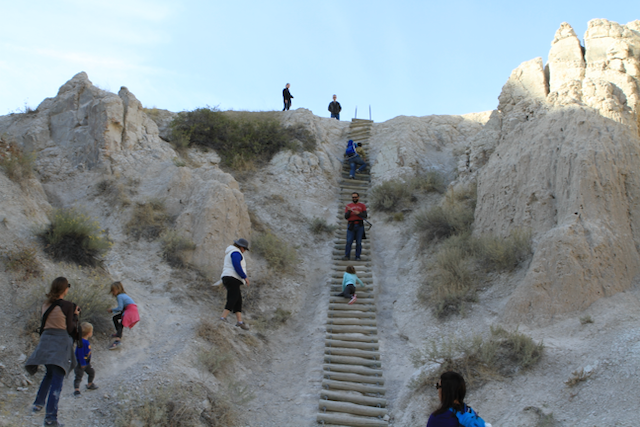 The campground here is a nothing to write home about. The individual sites are just wide spots in the circle drive. and you can't really position your camper the way you might like. Our front door opens right onto the road so we can't even roll out the awning. But we are not here for the campground we are here for the scenery.