I once listened to an interesting 99% Invisible podcast that said that Las Vegas was the petri dish for architecture in the United States. Las Vegas is also the city that keeps on coming to mind as I visit Dubai. The variety of architecture here is just amazing, especially in the new areas of Dubai -- where by new I mean less than 20 years and in many cases less than 10 years old! There are amazing buildings with modern architecture everywhere you look. This place is on a mission to make a statement on a global scale. But even after spending a couple of days here I'm not sure what that statement actually is. Update: on our tour to the Hajar Mountains yesterday our guide said "Dubai is the Las Vegas of the middle east, just without the gambling". So there are two data points for you on that comparison.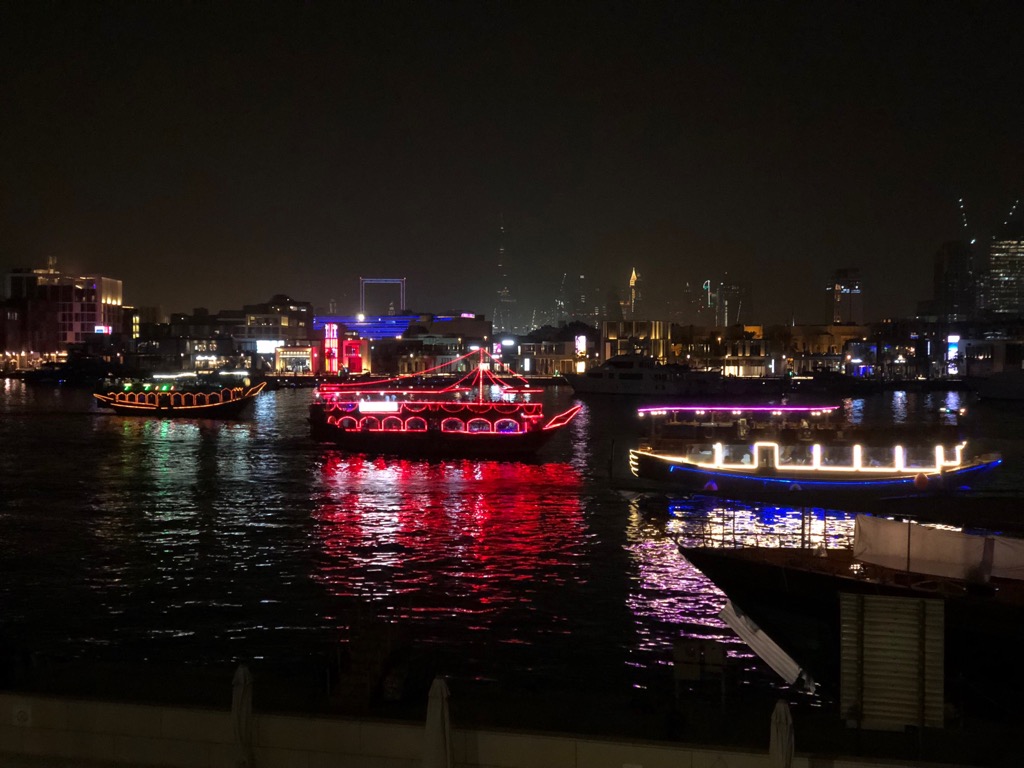 To put a positive spin on it it might be something like this: Visionary leadership will get you everywhere. Sheikh Mohammed bin Rashid Al Maktoum definitely had a vision and the people here have executed on that vision. Creating islands shaped like palm trees and soon home to two of the worlds tallest buildings where just 15 years ago there was nothing but flat desert.
A slightly more cynical spin would be. Dubai: we have more Guinness world records than anyone else, you should come shop here! The Mall of the Emeriates, The City Center Mall, the Marina Mall and of course the Dubai Mall, which is the largest mall in the world. The new area of Dubai hosts all of the worlds tallest hotels (at least the top three) there is the worlds highest swimming pool, the worlds highest observation deck, the worlds tallest building, with the worlds fastest elevator, which will soon be supplanted by a different building that will overcome the soon to be completed tallest building in Saudi Arabia. The worlds largest indoor ski area -- Yes it has real snow and operating lifts. This will also be replaced by another indoor ski area with a much longer run. The worlds largest man-made island. Its really exhausting to see and list all of these records.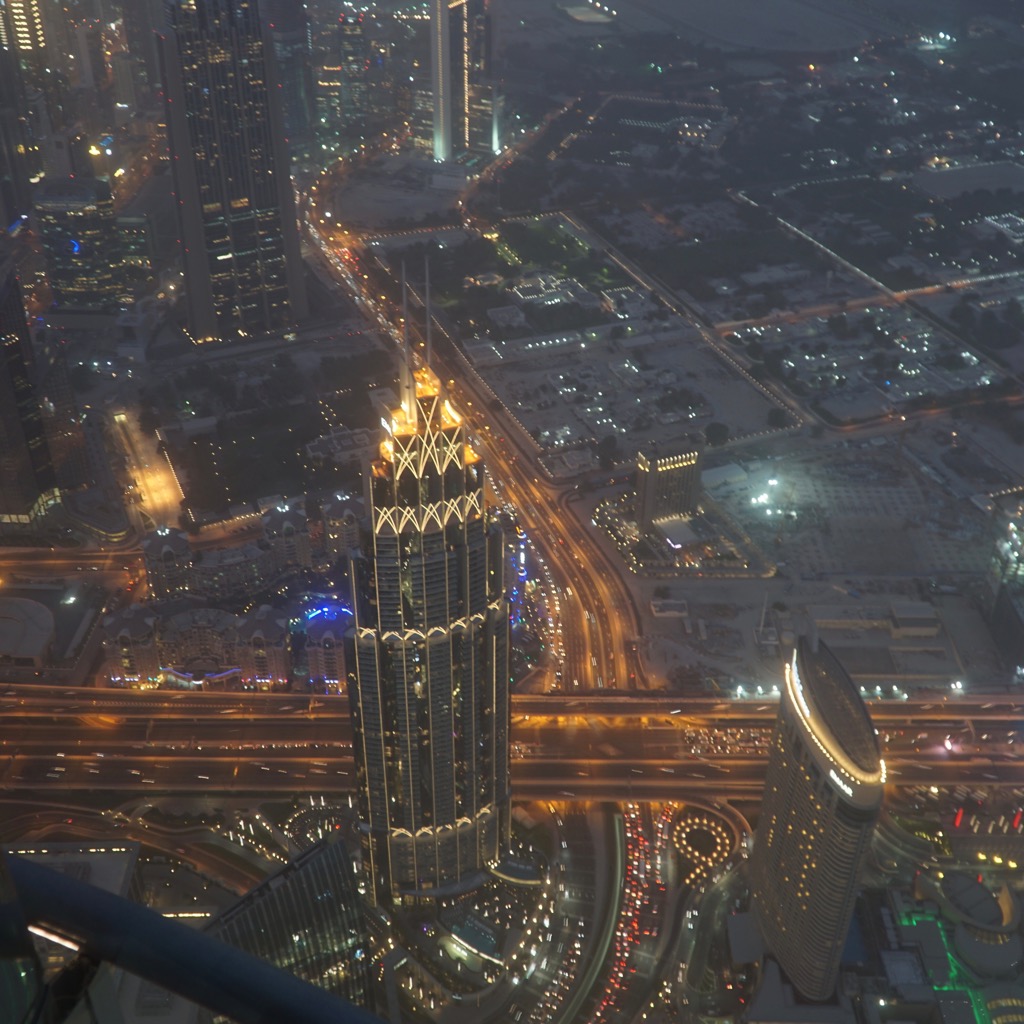 So what is the reason behind all of these records? You might be tempted to say that it is all due to oil wealth. But Dubai is small and contains only 4% of the oil reserves in the UAE. A little research will quickly lead you to the same reason I gave above, vision. It was the vision of the leadship of Dubai that led to the creation of the infrastructure, mass transit, and tax systems that have caused massive economic growth. Foreginers are allowed to own propery and business in designated business zones. There is no income or sales tax which explains some of Dubai as a massive shopping destination. And some things, like a man made island in the shape of a palm tree are just to show off a bit and attract celebrities to area.
Our hotel was near the Dubai Creek which was dredged and extended as part of the massive building efforts. But the creek is also the reason Dubais is located where it is. It is a highly defensible port location which is still operating today. Ports in Iran and many other Gulf countries are fairly close, just a 4 hour boat trip to Iran. The Creek and the port are the intersection of the old and new Dubai as you can see clearly in the photo.
The Dhows are loaded with all kinds of goods from new and used electronics to fresh water and furniture to be shipped from Dubai to other countries. The crime rate is so low that these goods basically sit here next to a busy street unguarded, waiting to be loaded and shipped away.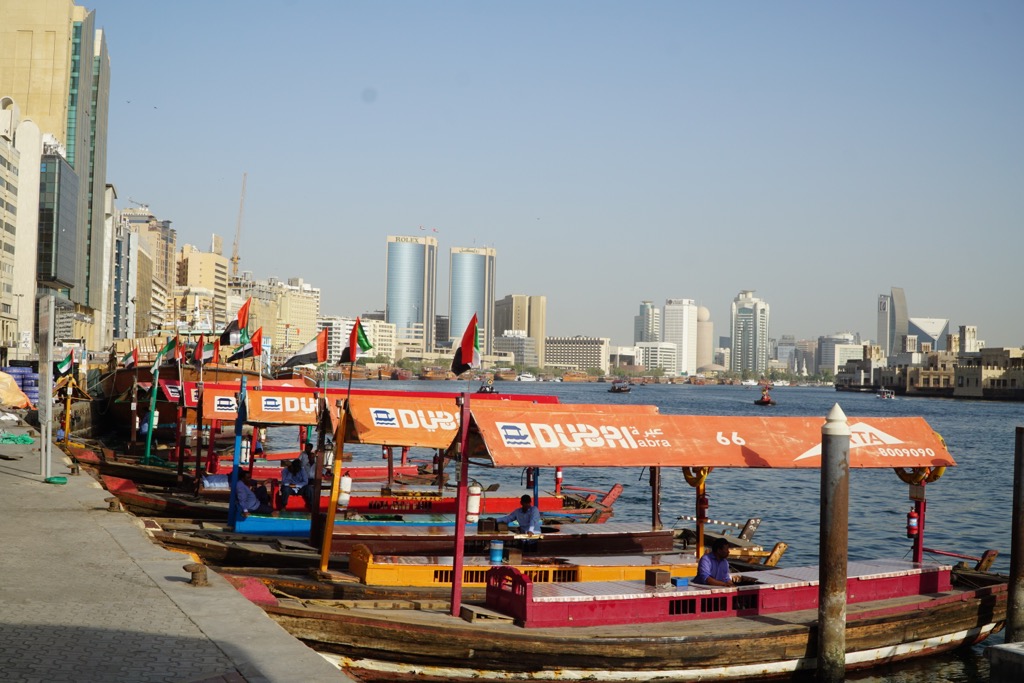 You can also see the "taxi" that we used to get from the new side of the creek to the old side of the creek. The ride was just 1 Durham which is about a quarter. You simply walk up, hop on and pay the driver his money. Or a helpful local may grab your 5 give you change and pass on the bill to the driver!
The highlight of our visit was a middle-eastern food tour hosted by Stephanie of Frying Pan Adventures. Stephanie is an Italian-Egyptian native of Dubai. She took us around her old neighborhood where we sampled food from Lebanon, Palestine, Egypt, Iran and Iraq. Jane and I agreed that our favorite was the giant Felafel sandwhich from Sultan Dubai Felafel. Eaten outside in the company of new friends it was delicious. We then followed it up with Kunafa served in the kitchen of Qwaider al Nabulsi. Kunafa is made with butter, noodles, salty cheese, and sugar syrup. Cooked in a large pan to a golden brown and served fresh! It was awesome. We also were able to enjoy many different varieties of Baklava along with an amazing cream sauce made from Soaproot! The egyptian pizza known as Feteer was also very good. My least favorite was the slow smoked carp at the Iranian restaurant.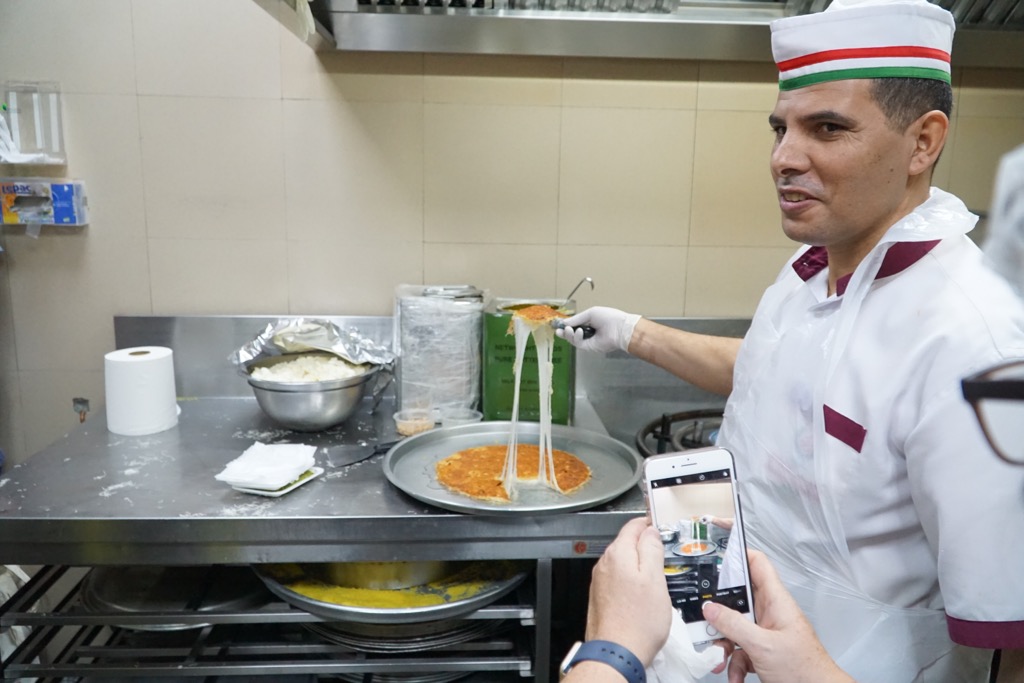 This visit to Dubai has left us with more questions than answers but we look forward to exploring much more of the middle eastern and southeast asian cultures as we begin the cruise portion of the journey.